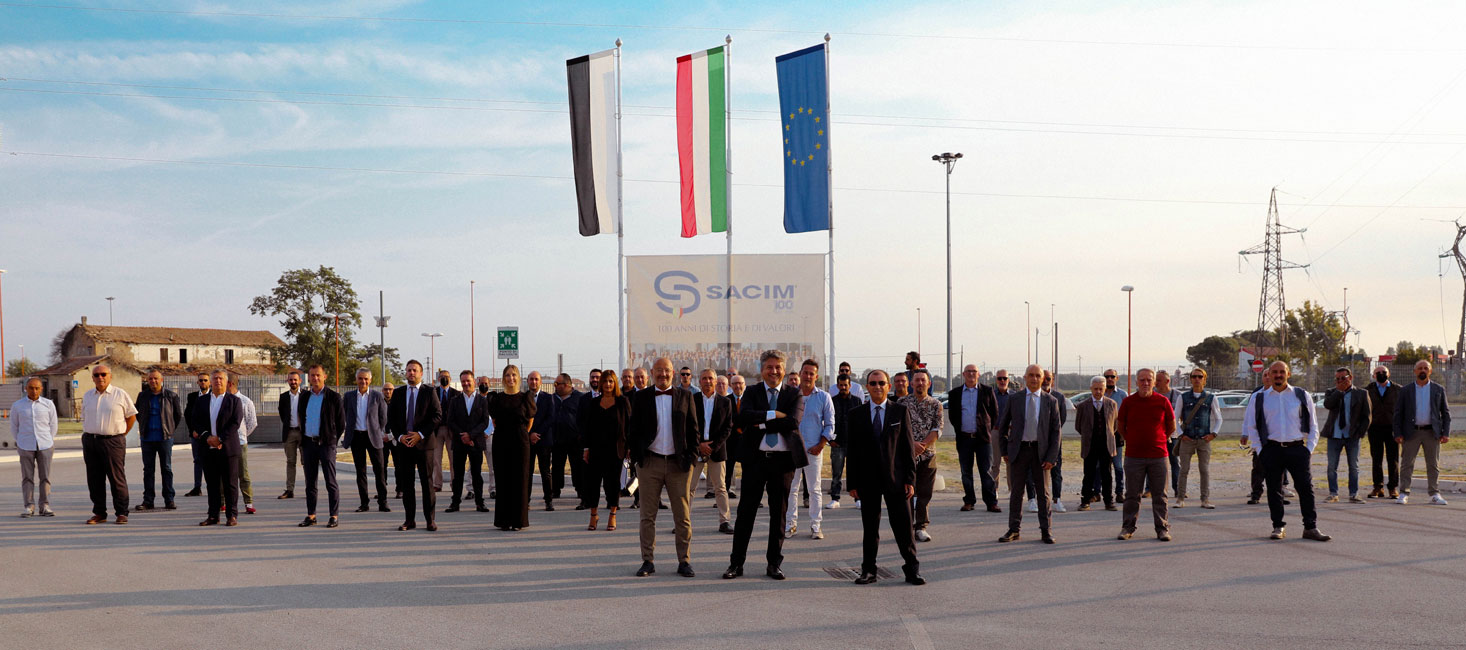 On Saturday, September 11th, 2021, Sacim officially celebrated its 100th anniversary (1920-2020). More than two hundred people attended the event, held inside the new plant in Pievesestina. After the Holy Mass, celebrated by the Bishop of Cesena-Sarsina, Monsignor Douglas Regattieri, round tables with historical testimonies were held, conducted by journalist Daniele Magnani, as well as award-giving ceremonies, music and entertainment.
Among the authorities there were the Mayor of Cesena, Enzo Lattuca, Mario Riceputi, representing Confindustria Romagna, Alberto Zambianchi, president of the Chamber of Commerce of Romagna, Forlì-Cesena and Rimini and president of Union Camera Emilia Romagna, and former deputy mayor of the Lucchi administration, Carlo Battistini.
Next, Sacim's president, engineer Francesco Molari, took the stage alongside other shareholders of the Company. He recalled his late father, Giovanni (aka Gianni) and his uncle, engineer Paolo, who was present in the audience as a second-generation entrepreneur. Representing the shareholders there were Roberto Ravegnani and Claudio Cappelletti, members of the Board of Directors, and Vittorio Ravegnani and Armando Camaeti, respectively sons of Amedeo Ravegnani and Dino Camaeti, Company founders together with Giacomo Molari, grandfather of engineer Francesco, and Lodovico Valzania, great-grandfather of Claudio Cappelletti.
There followed speeches from five important customers and suppliers, chosen to represent the wide range of companies working with and for Sacim: Zanatta S.r.l. from Mestre, Transadriatico from Grottammare – Ascoli Piceno, Sampi S.p.A. from Altopascio – Lucca, Icasud from Casoria – Naples, and the Cesena-based Carrozzeria Artigiana.
Then, some employees and former employees took the stage. Carlo Ronchi, Iliano Tani, Loretta Casadei-Benini, Elio Marri, all now retired, as well as Stefano Maldini, still working at the plant, told stories of life inside Sacim.
In the various testimonies, some prominent former employees of the company were mentioned: historical entrepreneur Mario Maraldi, who was there in 1920 with the Company founders, first president of Sacim and grandson of Mario Riceputi; Otello Faedi, sales manager, highly esteemed by colleagues and customers; Mauro Domenichini production manager, former scout leader, well known in the city for his human qualities; Mario Belli, a highly skilled technical manager; Marco Morigi, first Quality manager; Piero Rossi, workshop manager; Bruno Fabbri historical manager of the "development and research" department and father of employees Cesare and Roberto and, finally, the female staff Carla, Wilma, Timotea, Silvana, Antonella, Lara and Mirella who distinguished themselves over the years for their professionalism and commitment to their job.
At the end of the testimonies, engineer Francesco Molari handed out, to everyone on the stage, a ceramic item of great value with a hand-painted representation of the 100th anniversary logo, designed by graphic designer Matteo Bosi, while all the other guests received a commemorative medal. After the official part, the celebrations continued on the company's panoramic terrace with a buffet followed by the traditional cake cutting and a toast on another 100 successful years.